Disaster Response Efforts
Two relief operations for those affected by the Taal Volcano eruption were led by the Ugnayan ng Pahinungód UPOU held on 21 January 2020 and 6 February 2020. Non-monetary donations were forwarded to Cuenca and Taysan, Batangas and to Matala Court and Talaibon Evacuation Center located at Ibaan, Batangas.
The office also spearheaded the documentation of the volunteer activities of the UPOU students amid the COVID-19 pandemic starting on 25 March 2020. Moreover, as a response to the pandemic, the office has done a fundraising campaign for the production and distribution of face masks and face shields for the frontliners.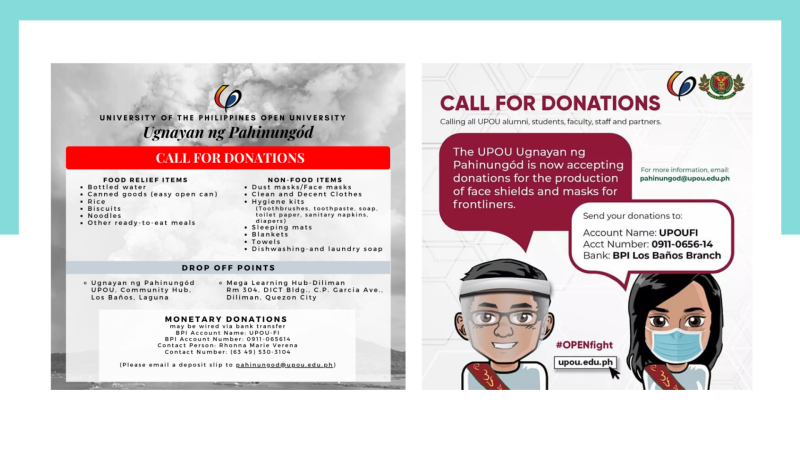 Image caption: Call for Donations poster for Taal Volcano eruption (left) and production of face shields and face masks (right)
Following the onslaught of typhoons Rolly, Quinta, and Ulysses, the office also initiated a donation drive which started 14 November 2020, organized for the affected families and communities. With the help of the UPOU students, alumni, employees, and friends, relief items were purchased and distributed.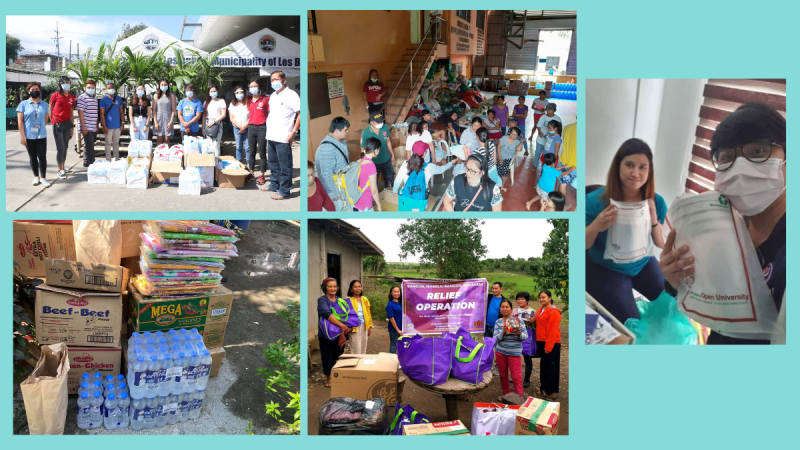 Image caption: Photo documentation of disaster response efforts of Ugnayan ng Pahinungód UPOU