Sama-sama sa Pagbasa: Paggamit ng Dialogic Reading method sa pagbabasa kasama ang pamilya
With the aim of training the parents on the application of the dialogic reading method as a technique in teaching reading to children, this project is conducted for four weeks, from 16 July – 13 August 2021. Selected parents of Grades 2 and 3 pupils of San Antonio Elementary School, one of the partner schools of Ugnayan ng Pahinungód UPOU, were tapped to be the beneficiaries.
Participating parents were provided with parent kits which contain four storybooks and dialogic reading guides. Participants together with Ms. Genevieve Aguinaldo, Pahinungod UPOU volunteer and project proponent, regularly meet every Friday to demonstrate the 1st reading of each storybook. Two Focus Group Discussions (FGDs) were conducted with the parents on the first and last day of the program. A news article on this project implementation was posted.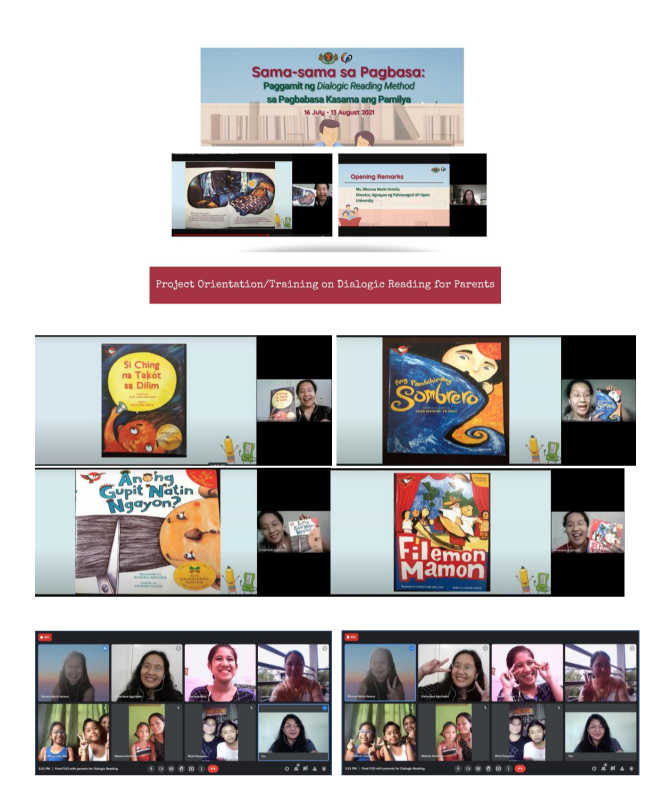 Read UP: Read Aloud for Teachers, Parents and Caregivers
Following the effectiveness of read-aloud as a reading strategy, the office conducted a webinar titled Read Aloud for Teachers on 22 July 2021 via Zoom. Teachers from the partner schools in Bay, Los Baños, Cebu, and Davao participated in this webinar. Asst. Prof. Anna Liza M. Barcelona, a read-aloud advocate and a Senior Lecturer at UP Visayas, served as the resource speaker while Ms. Genevieve Aguinaldo acted as the moderator.
Consequently, another webinar titled Read Aloud for Parents and Caregivers was also conducted on 28 July 2021 via Zoom and live-streamed via the Ugnayan ng Pahinungód UPOU Facebook page. News articles about the Read Aloud for Teachers and Read Aloud for Parents and Caregivers were produced in coordination with UPOU Office of Public Affairs.